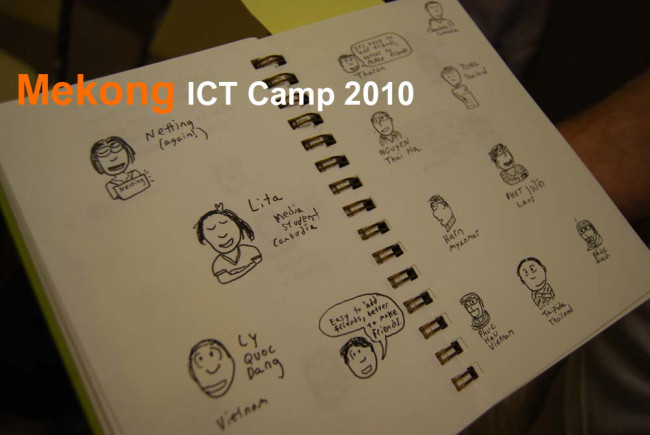 https://www.facebook.com/MekongICT
Beginning the first day with the facilitation of Michael making us debating each others with question and suggestion about how important between people and technologies.
Besides, the game is also let us know how different of the people involving with the technologies that someone agree or disagree about the technology such as E-Mail which make them losing happiness.
Furthermore, he led us having some debate about "Do you agree in the censorship? The result was varies in many aspects, such as there was someone agree with the censorship only a moment of the occasion and place, but some of the others agree with the censorship for the inappropriate information.
After that, Mr. Laurence Miller gave us the information about "Governance 2.0 and civil information society" which is about the effected of the globalization to the natural resources, such as the earthquakes, the tsunami, the global warming, and as well as the financial crisis.
Then, he shared us some information about sharing to sharing the ICT software that should be free to develop the organization and to help each organization have a good connection between each other, and it is able to develop its work through the open source.
"It is not acceptable that the government take our taxes to develop the software and sell us back" – He added. "Let the data free, don't cage the data to make people trust you, the government" is one of my favorite sentences.
The open data should be transparent as well as the government should give us the free data to reach to make sure that you are transparent, and we can trust you as well.
Not at all, the government received the free data, that's why the government should give us back in free.
Then, we have the Q & A session which the question sound echo within my ears is "How do we negotiate with the government that does not let the information free".
The answer is "We do still have tweeter, Facebook, and also the new media way to tell the government of what happened on the situation."
In the afternoon, I attended the journalist session about what is going on the Mekong region and how to run the news in the Mekong area.
Additionally, nowadays, Youtube, Twitter, Facebook are another alternative ways to serve the news, as well as in the
parliament use those media. Besides, the news nowadays is hard to be trusted, and it is not about not trust anybody, but you should question the media, news. It was the knowledgeable day of mine.
Social Share