Thai Volunteer Service (TVS) began in 1980. We used a small classroom of the Social Research Institute at Chulalongkorn University as our office for the Thai Volunteer Service Project. The place gradually became too small to accommodate young leaders from various universities throughout Thailand. During the 1980s it was the changing period not only for Thailand, but also for different countries around the globe. University students were eager to come and participate in discussions about democracy and social change.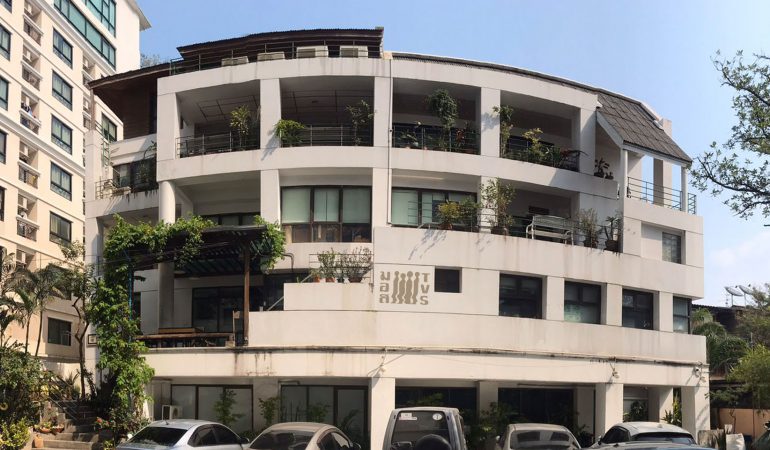 The ocean is made up of tiny drops of water. We started like a tiny drop of water and, for more than 30 years, we have been growing bigger and stronger by working and partnering with other NGOs. Thai Volunteer Service Foundation (TVS) was formally registered in 2000. The Thai Volunteer Service building is now located in Soi Ratchadapisek 14 and we can now provide meeting rooms and facilities for different non-profit organizations e.g. Foundation for Ecological Recovery, Development Worker Credit Union Cooperative, Prachathai and iLAW.
TVS believes that by providing different training and activities, young people can be encouraged to become volunteers to help those who are disadvantaged in society and can become agents of social change. We believe that  by cultivating compassion and humanity, our world can become more peaceful and a better place to live.
For the past 30 years, TVS has organized different projects for young people including Full-Time Volunteer, Human Rights Volunteer, Young People Development for Social Change and Teacher Volunteer etc. There are about 700 alumni of these projects now, not including the hundreds from the Part-Time Volunteers project. We also have the Collaboration for the Young Generation in Mekong Region project, which aims to build up collaboration among youth in the Mekong Region.
We see ourselves as a rainbow bridging young people in the cities and rural areas, so that they can share with, learn from and respect each other and be able to link themselves more closely with their own communities and the global world.
Objectives
@ Create forum of learning and developing attitudes and skills for committed volunteers who want to contribute to unfortunate people.
@ Enhance capacity of young people to develop their skills and analytical thinking by conducting training and exposure trips.
@ Promote collaboration among non-governmental organizations and governmental organizations.
@ Seek social development approach together with other sectors to create a just and peaceful society.
Committees for Thai Volunteer Service
Ms.Surassavadee Hunpayon             President
Mr.Khotom Areeya                             Vice President
Mr.Prapot Phettrakat                         Committee Member and Treasurer
Mr.Pairoj Phonphet                            Committee Member
Mr.Chatchawan Thongdeelert          Committee Member
Ms.Supa Yaimueng                             Committee Member
Ms.Patsorn  Sangsri                            Committee Member
Ms.Sayamon  Kaiyurawong               Committee Member
Mr.Witoon  Lianchamroon                Committee Member
Mr.Yingcheep  Utchanon                   Committee Member
Ms.Phawinee  Chumsri                       Committee Member
Ms.Kittikarn  Harnkun                        Committee Member
Ms.Supawadee Petcharat                  Committee Member and Director
Human Rights Volunteer Project
The important mission of the Human Rights Volunteer Project is to give opportunities to committed young people who want to contribute to society and to be able to develop their analytical thinking and working skills. They achieve this by learning through working with an organization for 1 year, where they work with unfortunate people who have suffered from social inequality. This is in order to inspire the young people to continue working for society wherever they are in the future.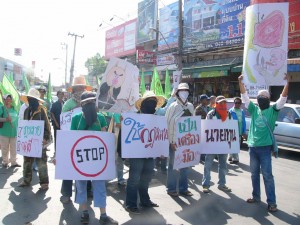 Each year TVS recruits volunteers and provides them with training before sending them to work with different non-governmental organizations (NGOs) throughout the country. The volunteers receive a sufficient monthly allowance enough for their living. During the volunteering period, TVS provides training to develop their work and life skills by learning from their experiences,  as well as providing them with technical knowledge which they can apply to their work. The volunteers work with various social issues, such as stateless persons,  environmental issues, migrants, refugees, women, land issues etc.
It is now the seventh batch of the one year program since the project started in 2006. At present, we have a total of 139 alumni and they have formed the Human Rights Lawyer Network. It has been registered under the Human Rights Lawyer Association and has provided spaces for exchange and learning on different social issues. The volunteers are able to share and gain different experiences which they cannot find elsewhere.
Objectives
1. Young lawyers are able to have a greater understanding of social problems and human rights abuse and are aware of their roles in contributing to society with their professional knowledge
2.  Lawyers and committed people are able to contribute to the lives of unfortunate people and support community organizations and non-governmental organizations (NGOs)
3. Develop a curriculum suitable for law students to gain understanding about social problems and practice  real situations
4. Provide space for exchange and to build up networks among volunteers and alumni
 "Working as a volunteer is the way to developing oneself and helping others. Being a volunteer is not limited at any age but one's whole life"

Phra Paisal Visalo  
Youth Leadership for Social Change Project
The Youth Leadership for Social Change Project aims to develop youth leaders who have some experience at a certain level to become social change agents. The project provides an appropriate curriculum according to their age, aiming to build up a strong network and alliance among youth.  It also aims to create space for youth to advocate for social change at policy level.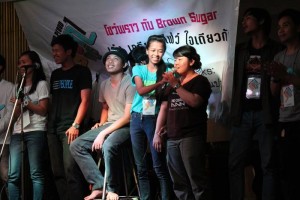 By creating a learning-by-doing process, which includes workshops and training with various learning tools, the project will provide an exchange forum to build greater understanding as well as to develop knowledge and skills of the youth. Most importantly, we want to bring "wisdom of awakening" (self discovery) to the youth through different learning opportunities. They can be awakened and we know, with the power of youth, they can create alternatives and solutions to make social changes.
"We believe in the potentiality and pure power of youth to participate and take a vital role as agents of social change"
Objectives
1. To develop vision and understanding of social ideology and to enhance leadership skills among young people, in order to build a healthy society
2. To build up a youth network and alliance of various organizations working on youth development for learning and sharing, and to work together in order to create a sustainable and healthy society
3. To encourage youth to participate in social movements for a better society
4. To develop the learning curriculum of youth leadership for social change
Collaboration for the Young Generation in Mekong Region (CYM)
The Collaboration for the Young Generation in Mekong Region (CYM) is a platform for collaboration and networking among the new generation of social activists in Cambodia, China, Laos, Vietnam and Myanmar/Burma for social change. It was started by TVS in 2004.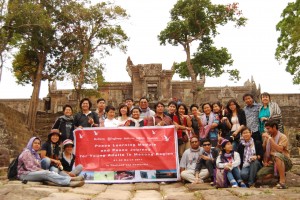 Economic development always involves potential trade-offs and it is unavoidable for our Mekong Region too.  In order to provide youth with different opportunities to debate on issues such as economic efficiency, social equity, conflicts & peace and environmental sustainability, CYM has conducted various participatory forums, training and workshops such as the ASEAN Youth Forum, Mekong Peace Journey and Cambodia Thai Exchange Program. We also encourage youth participation on advocacy for peace, educational alternatives and social responsibilities.
CYM is confident that members of the young generation are important regional change agents. Exchanging and sharing will lead these individuals to arrive at a common understanding of social problems at the regional level, as well as support them in building friendships free from national borders, racial prejudice and historical bias.
For almost 10 years, CYM has brought together about 500 young people to be "agents of change" and "young peace-builders". We believe that by networking with our younger generation we can make changes together and turn our society into a better one.
Ultimately, CYM envision this network becoming a group with the power to create a just, equal and peaceful society in the region.
Objectives
1. To provide a creative regional platform for collaborating and networking among the new generation of youth leaders for social change
2. To build up and strengthen the network of ASEAN youth through meaningful actions at the regional level
3. To build the trust and inner peace among young adults in the Mekong region
4. To identify appropriate and effective strategies for intervention to build peace in the country and the region
5. To engage young leaders with decision-making mechanisms towards building a people-centered ASEAN
7. To advocate and campaign on peace and good governance in the region
8. To educate young people in becoming regionally minded, socially active and concerned and encourage them to be responsive and take action in their communities
9. To raise awareness on peace building in the region
10. To promote real sharing and caring among young people in the ASEAN Community
Office management
The Thai Volunteer Service (TVS) building is a 5-floor building which has been constructed for more than 30 years. There are 5-6 Non Governmental Organization (NGO) offices sharing the building. These include Media for Community Education Foundation, Prachathai, NGO Coordinating Committee for Development (NGO-COD), Credit Union Cooperative for Development, Foundation for Ecological Recovery etc. The Thai Volunteer Service (TVS) office is located at the 2nd floor.
TVS also provides a rental service of meeting rooms for other NGOs or alliance networks for meetings, seminars or press conferences. There are 2 meeting rooms which are of different sizes.
TVS Room Service
Below are the service charges and rates of meeting rooms. The charges are on a not-for-profit basis
@ Sujittra Room on the 4th floor accommodates around 30-35 people: 2,000 Baht/day.
@ Small meeting room on the 2nd floor accommodates around 10-15 people: 1,000 Baht/day.
@ Rice with 3 types of food: 120 Baht/person/meal.
@ Rice with 2 types of food: 100 Baht/person/meal.
@ Refreshment: 30 Baht/person/meal.
For more information, please contact :
Thai Volunteer Service (TVS)
409  Pracharatbampen Rd.,5
Huay Kwang, Bkk 10310
E-mail : admin@thaivolunteer.org
Website : www.thaivolunteer.org
Phone  : 02-691-0437-9 (Office hour 09:-30 Am-05:30 Pm)