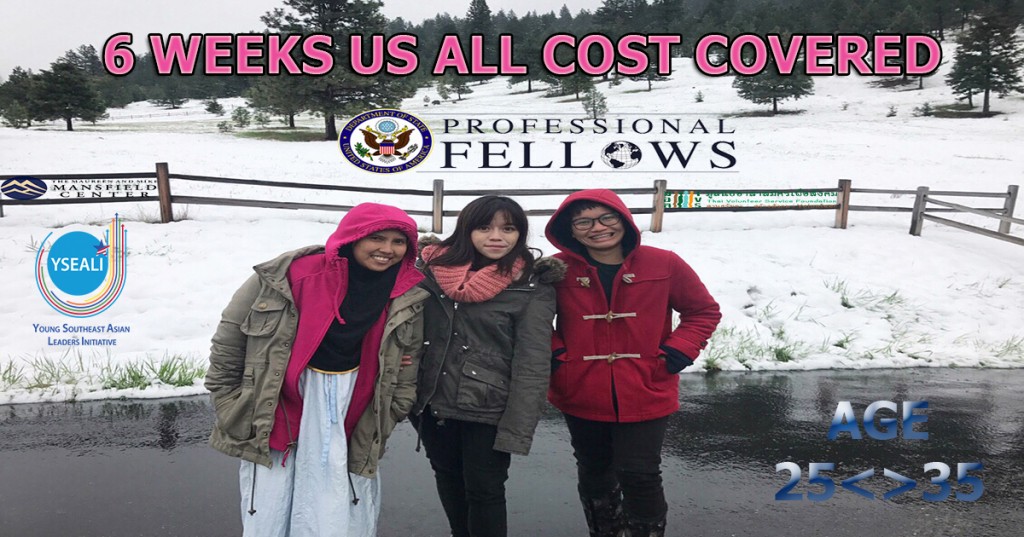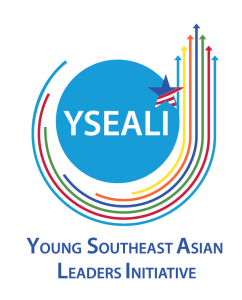 This program is a component of YSEALI:  the Young Southeast Asian Leaders Initiative.  YSEALI consists of bright young leaders aged 25-35 years from Brunei, Cambodia, Indonesia, Malaysia, Burma, Philippines, Laos, Singapore, Thailand and Vietnam. These young leaders have innovative ideas for tackling what they have identified as their generation's greatest challenges in the ASEAN region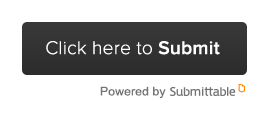 Please read the program summary first.

 We are seeking emerging leaders who work in civic engagement and wish to improve their leadership and professional skills. In contrast to past programs, these participants can come from any professional sector: civil society organizations, government, private business, or academia. The Civic Engagement Fellows Program will 
focus on women's empowerment.
 This means that all participants should focus on women's empowerment in civic engagement, and both women and men can apply.
This is a great opportunity for people age 25 to 35 From Myanmar, Laos, Cambodia, Thailand and Vietnam. Once-In-a-Lifetime Opportunity Learn Improve Creative Solutions Skills Promoting Economic Development Environmental Protection Education Civic Engagement Establish International Partnership
Application round will be open for submitting applications  until 30 March 2018
Online Application-Form: 
Download Application-Form: 
If you're interest in this program please sign up for our newsletter  http://eepurl.com/cqTaub or  Email: yseali@thaivolunteer.org
If you have any questions please feel free to contact us.
Thai Volunteer Services (TVS)
409 Soi Rohitsook, Pracharajbampen Rd.,.Huay-Kwang,
Bangkok 10320, Thailand.
Tel / Fax: (66) 269 104 379
Program Summary
Thai Volunteer Services and the Mansfield Center of The University of Montana seek professional applicants for a program sponsored by the U.S. Embassy.  The YSEALI Civic Engagement Fellows Program is designed to promote mutual understanding, enhance leadership and professional skills, and build sustainable partnerships between emerging leaders from foreign countries and the U.S. We are seeking emerging leaders from a variety of sectors: civil society, government, education, and academia.  Because this is a program for professionals, non-working, non-professional or students are not eligible to apply.  The required age range for participants is 25 – 35 years of age. 
During the five-week program in the United States, participants will gain firsthand knowledge of how organizations and institutions operate, while also participating in site visits and specially-designed seminars.  An important part of the program is a fellowship.  Participants will be matched with a similar organization in the U.S. and work with an American counterpart for one month.  Participants will spend one month in their fellowship and one week in Washington, D.C.
This program also provides the potential of an American expert traveling to your workplace to support your organization.  Thai participants may also be asked to host a U.S. participant at their place of work. That individual will be someone you have worked with during your U.S. program and determined to be of benefit to your mission.
A selected number of American fellowship partners will travel overseas to work with you and your counterparts on civic engagement and women's empowerment issues in your country.
Because 32 Southeast Asian Fellows will be selected, and only approximately 12 of their partners will travel to Southeast Asia, not every Southeast Asian participant will host an American at their place of work.  However, you must state your willingness to host a U.S. participant on your application to be considered for this program.
A total of 16 successful applicants will participate in the YSEALI Civic Engagement Fellows program, traveling to the U.S.  October 4 – November 10, 2018.*
*The YSEALI Professional Fellows Program is offered twice per year. Interested applicants should be aware that applications for the second program, October 4 – November 10, 2018 will be available by February 19, 2018. Selected Southeast Asian applicants will host U.S. partners in their country for a 10-14 day period sometime between August 2018 and June 2019.  Approximately 12 U.S. partners will travel to Asia, so this will not be a one-to-one exchange. Not each Asian participant will host a U.S. participant, but each Asian applicant must agree to do so in case they are chosen to host a U.S. participant.
Program Objectives
Promote mutual understanding and lasting partnerships between mid-level emerging leaders.ovide opportunities for global emerging leaders to share ideas, approaches, and strategies regarding civic engagement and women's empowerment challenges.
Enhance leadership and professional skills for fellows from around the world.
Build a global network of like-minded professionals.
Other Essential Program Information
Program Funding:  The United States government will cover all participant costs, including international travel; travel and ground transportation in the U.S.; meals; lodging; and cultural allowances. If you will be asked to host U.S. participants at your place of work, the program for the Americans will be at no expense to you or your organization.  American participants will be provided all funds for hotels, meals and transportation.
Program Requirements and Restrictions:  Participants are expected to participate fully in the program.  They are expected to attend all workshops and organized activities.  The program is very intensive and there will be little time for personal pursuits unrelated to the program. This is not a tourism program but an intensive professional experience.  However, please realize that this is a group experience.  Not every appointment will be specifically designed to your interests. Every appointment will contribute to overall understanding of civic engagement and women's empowerment issues.  This is an inter-disciplinary programs specifically designed to bring together people from different backgrounds and professions in a shared goal of enhancing civic engagement and empowering women. Please note: this is not a program to fundraise. You will learn skills and how to fundraise, but your goal should not be to raise money while in the U.S.
English Language Ability:  All candidates must demonstrate English language capabilities.  The program is rigorous and demanding.  Participants will be expected to handle reading materials in English and to be full and active participants in all seminar and panel discussions.
Candidate Description and Qualifications:
The participants are expected to be highly motivated professionals working in the field of civic engagement and women's empowerment. All participants will have a good knowledge of English.
We welcome applicants from both rural and urban areas, both men and women, and those with little or no prior experience in the United States or elsewhere outside your home country.
We welcome participants of all backgrounds.  We encourage those with disabilities to apply, as our program will accommodate such needs.
The recruitment period is February 19– March 30 2018.  Application review will be conducted by local partners in conjunction with the Mansfield Center of the University of Montana.
Successful applicants will progress to a telephone interview between December 7-20 in order to assess English-language skills and further ascertain suitability for the program.
A select number will be chosen for personal interviews May 5-25, 2018.
Three to four primary participants and two alternates will be chosen from each country for each of the two recruitment periods
Selection Criteria
English-language capability to be successful in an English-language program for five weeks.
 Clear understanding of civic engagement and women's empowerment issues that affect your community.
 Completion of relevant education (preferred but not required).
 Suitability of the applicant's organization to benefit from this exchange and to host a U.S. participant.
 Potential commitment to hosting a U.S. participant for 10-14 days.  This includes organizing a professional program, a cultural orientation, and working with the local partner and the Mansfield Center to organizing logistics such as lodging and transportation. (All activities are paid for by the program, not by you or your organization.)
 The support of your supervisor and/or organization for both your participation as well as for hosting a U.S. Fellow.
 A commitment to the time investment required to make the program a success.
 A demonstrated interest in working in cross-cultural settings.
 Demonstrated understanding of program objectives.
 Communication of personal goals in line with program objectives.
 Participants chosen from each country as a whole reflect the diversity of that country in terms of its populace, geography, and variety of interests/fields/organizations.Demonstrated commitment to strengthening your community.
Little or no prior study or travel experience in the United States.
Be willing and able to fully participate in an intensive program, Fellowship position, community service, and travel program in the U.S. for approximately 38 days.
Be able to make adjustments to cultural and social practices different from those in your country.
Understand that this is not tourism or a luxury program. This is a busy professional program.
 Aged 25-35:  this program is for emerging leaders, not for students or high-level experts.
 Plan to return to your organization following completion of the program.
 Demonstrate strong leadership qualities and potential in your work.
The deadline for applications is 30 March 2018